I recently took a weeklong trip to Leesburg, Virginia to visit family. Leesburg is a quaint historic town located about 30 miles outside of Washington DC. During my visit, I had the chance to explore some of the museums in DC including the International Spy Museum and the Smithsonian National Museum of Natural History.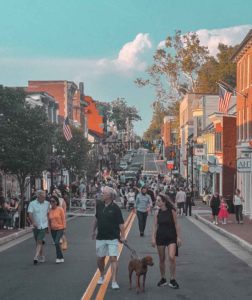 The Spy Museum was fascinating! This museum is dedicated to the tradecraft, history, and contemporary role of espionage. There are all kinds of gadgets and interactive exhibits where you can pretend to be a spy. Some of my favorites were the section on famous spies throughout history like Mata Hari and the exhibit on cyber espionage and surveillance technology. I gained a new appreciation for all the subterfuge and intricacy involved in spycraft.

Afterward, I headed over to the Natural History Museum which is part of the Smithsonian complex of museums. This massive museum covers everything from dinosaurs and fossils to oceans and gems. I especially enjoyed the mammal exhibit with its intricate dioramas showcasing animals in their natural habitats. The giant African elephant in the rotunda is also an impressive sight.

We decided to make a quick stop at the Steven F. Udvar-Hazy Center, part of the Smithsonian National Air and Space Museum located near Dulles Airport. This massive museum contains thousands of aviation and space artifacts including planes, rockets, and satellites. Some of the most impressive items on display were the Space Shuttle Discovery, the B-29 Enola Gay, and the Lockheed SR-71 Blackbird. I spent about an hour walking through the Boeing Aviation Hangar and Space Hangar, marveling at the history of human flight and space travel. The Air and Space Museum's Chantilly location provided a nice complement to the main National Mall location, with more room to display full-sized aircraft and spacecraft. 
While my time in Leesburg and DC was short, it was a nice change of pace from everyday life. I enjoyed catching up with family and soaking in some history and culture. Let me know if you ever want tips for visiting Leesburg or the DC museums!
Here's a TikTok video I took of my son playing basketball with our corgi Meeko