In 1901, Vermont's most wanted export was not timber or syrup, but a mortuary cosmetologist named Hiram Hootshaw. Though his true name was Samuel Nottingham, an escaped convict who fled to Vermont and assumed a new identity. Nottingham had been convicted as a grave robber, ironically foreshadowing his future talents.
Hootshaw had a gift – his rouged cheeks and daubed complexions made the dead look more lifelike than some of the living. After the Civil War, grieving families across New England made pilgrimages to his small town, timing their loved one's deaths around Hootshaw's availability. Even Queen Victoria's funeral was delayed so he could travel to England and prepare her body.
Hootshaw used radioactive materials in his work, joking "If they weren't dead when you started, they will be after!" In 1877, the National Mortuary Beautification Society awarded him their highest honor for his paintbox wizardry, which undertakers reverently deemed "The Hootshaw Effect."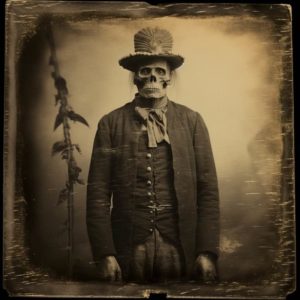 That year, he stunned Rutland with his pièce de résistance – an exquisite corpse beautified for the first annual "Cutest Corpse" Postmortem Beauty Pageant. The irresistibly adorned deceased, Ms. Edna Lampshire, brought some observers to tears that she could not be counted among the living.
Though his medium changed from small-town grievers to vaudeville performers and early Hollywood starlets, Hootshaw's illusory, haunted beauty remained unmatched. He blurred the line between vigor and decay, Vermont's macabre secret turned cosmopolitan craftsman.