This week I've been working on writing query letters to send to literary agents for my novel A Little Too Dark. Writing effective query letters is an art form – you need to hook the agent within the first few sentences, provide an intriguing summary of your book without giving away all the details, and convince the agent why your book will sell.  Basically, it's a form letter, but fortunately, you need to write one successfully and then you're done.  It's a delicate balance of marketing your book while still being professional.  I haven't quite figured it out, but need to be quick before the big AI wave hits.
Movie Recommendation: The Lodge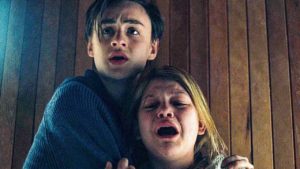 If you're looking for an unsettling psychological horror film, I recommend checking out The Lodge, though I should warn it's not for everyone and there's a suicide scene that could be particularly triggering. I just feel like I need more people to talk to about it.  The film follows two kids and their potential new stepmother who get snowed in at a remote cabin, leading to terrifying events. The dread-inducing atmosphere and claustrophobic setting really get under your skin. Riley Keough's performance as the stepmom on the verge of a mental breakdown is masterful. The Lodge is a slow-burn, art-house style horror film that provides more disturbing tone than outright scares. Just know that it has some truly dark moments that could be very off-putting for some viewers. Proceed with caution if you venture into The Lodge.
TV Show Praise: Reservation Dogs
I have nothing but joyous appreciation for Reservation Dogs, the comedy series focused on four indigenous teenagers in rural Oklahoma. It's one of the most unique, genuine, funny and heartfelt shows I've seen in a long time. The writing and performances are fantastic, packing so much personality and depth into 30-minute episodes. I'm really going to miss spending time with this makeshift found family when Reservation Dogs ends after season 3. The show is a real gem in FX's line-up of stellar programming lately. They've quietly assembled an impressive roster of shows, with Reservation Dogs being a stand-out. More people need to check out this special series, so I can talk about this one too.