I worked as a marketing manager at the Sand Casino in Atlantic City back in the late 2000s, shortly before the iconic casino was demolished. The Sand was one of the early Atlantic City casinos, opened in 1980, and featured frequent performances and appearances by Ol' Blue Eyes himself, Frank Sinatra. Sinatra was extremely popular in Atlantic City in those days, helping establish it as a premiere entertainment destination on the East Coast.
The Sands was bought out around 2007 with plans to implode the old casino and build a shiny new resort in its place. While cleaning out my office before the demolition, I came across a videotape containing some fascinating raw footage featuring Frank Sinatra himself. The tape had various commercials and news segments with Sinatra, as well as some funny outtakes and candid moments. I even recognized some familiar local TV personalities like Jerry Penacoli and Jim Gardner who were covering casino events and interviewing Sinatra back in the day.
After the Sands was imploded in 2007, the lot sat vacant for years, with plans for a new casino falling through. But I held onto the videotape all these years, knowing I had some special Atlantic City history in my hands.
Recently, I decided to digitize the footage and see if I could improve the quality. I used AVCLabs Videoenhancer, an AI-powered video restoration software, to reduce noise and jitter and boost the resolution. While it's still a bit rough around the edges, the enhanced video provides a wonderful glimpse back in time to Atlantic City's heyday and Frank Sinatra's celebrity appeal.
It's amazing to watch these old commercials and news clips and see Sinatra grinning alongside dealers and cocktail waitresses, or hear him bantering with the press. Even the outtakes are fun, like Sinatra joking around with the folks in the casino. This is a side of vintage Atlantic City that has been lost to time.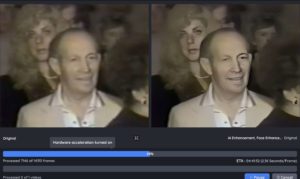 I'm so glad I rescued this footage so many years ago. It's brought back great memories of my time working at that iconic oceanfront casino, when Atlantic City was the Las Vegas of the East Coast, and Frank Sinatra was the king of the boardwalk. I hope to digitize more of this video and help preserve a unique piece of Atlantic City history and pop culture. Please let me know if you have any other questions!