Welcome to the charming little town of Garvin, Vermont! Nestled in the beautiful Green Mountains, Garvin is known for its friendly locals, cozy cafes, and quirky traditions.
The town is famous for its vibrant fall foliage. This year, a helicopter crew sprayed 10,000 acres of colorful trees with a non-toxic paste to keep the leaves attached for an extra two weeks!
Garvin also grows pumpkins of epic proportions. One pumpkin got so enormous it actually got stuck in the covered bridge! The town carved a hole through it big enough to drive your car through.
The cafes in Garvin have a unique twist on their pumpkin-flavored fall drinks. They water their pumpkin patches with beer and lattes, so the pumpkins absorb those flavors as they grow! You can taste the beer and coffee notes right in your pumpkin spice latte.
Around Halloween, Garvin holds its annual costume parade. This year's theme was "Matt Demon!" People dressed up in creative demon costumes inspired by actor Matt Damon.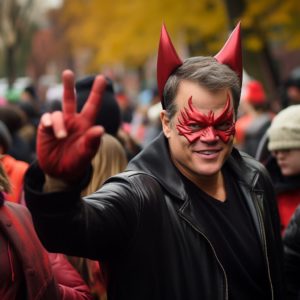 The town also hosts a pumpkin meat-eating contest around Halloween. Contestants see who can eat the inside pumpkin flesh in a set time. It's a slimy good time!
The whole town gets into the Halloween spirit. You can pick the perfect jack-o-lantern pumpkin from the patch, or enjoy a pumpkin ale brewed with pumpkin meat at the local brewery.
So come enjoy the charming traditions and quirky fun of Garvin, Vermont this fall! Just watch out for giant funky-flavored pumpkins wedged in the covered bridges.   l