The second of fifty fictional places to visit in Vermont you won't find in any travel guide. These are the places the locals keep to themselves and if you go, you'll soon learn why.
The Statue of Prosperity
A benefit of a summer drought is the opportunity to catch a glimpse of the copper green rump of Plutus. The 455-foot statue of Plutus, the Greek god of prosperity, rests on the bottom of Lake Champlain close to the Lake Champlain bridge in Chimney Point.
Design by Bartholdi and Eiffel in 1887 as the older and much larger brother to the Statue of Liberty, its iron frame was assembled in Canada. The symbol of international unity erected so one foot would be in Canada and the other in Vermont straddling both the US and Canada. At the time, relations between the countries weren't as rosy as today.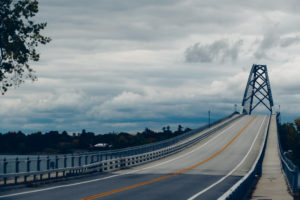 The brilliant copper statue towered brilliantly over the two nations for only a few short weeks. Strong wind and soft mud were blamed for its demise when Plutus tumbled face-first into the lake. The ensuing waves demolished two beach shacks, and the sad statue floated in place for a day before drifting south and sinking close to the future site of the Champlain Bridge.