Hello all! Today we're embarking on a trip back in time.  Last week we went to 1961 Las Vegas. Today
I'm excited to share with you a unique treasure trove, a collection of photographs taken by my father, John Rodgers, when he was just 20 years old. These images offer a vivid snapshot of the grandeur that was the 1964 World's Fair held in New York.

In 1964, my father, armed with his trusty camera, ventured to the World's Fair and immortalized these fascinating moments. These photos not only offer a peek into this monumental event but also showcase the popular attire from nearly 60 years ago. I especially enjoy the photos of the young woman and gaggle of nuns a little down the page.
Here's the first gem, the Unisphere, an enormous, gleaming, stainless steel model of Earth. The sight of it was breathtaking, it stood as a symbol of global unity and the dawn of the Space Age. Today, it's one of the few structures that still stand in Flushing Meadows-Corona Park, continuing to inspire awe in its visitors.
Another monumental display was the US Royal Giant Tire, initially a Ferris wheel. With its imposing size and grandeur, it was hard to miss.
Though it no longer exists in its Ferris wheel form, this gargantuan tire was moved to Michigan and can still be seen roadside in Allen Park. It serves as a lasting testament to the '60s vision of the future.
Now, let's change the beat. Among the myriad attractions was the Cities Service World's Fair Band, which brought people together with their uplifting music.
The fair was a rich tapestry of culture, innovation, and camaraderie. Here we have a beautiful moment frozen in time, a group of nuns joyfully experiencing the fair.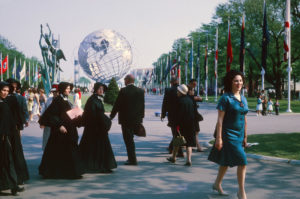 Interestingly, some exhibits made a lasting impression due to their unique vision of the future. General Motors' "Futurama II" showcased a vision of the world in 2024, predicting automated highways and undersea resorts.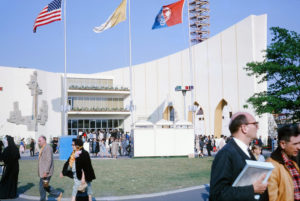 IBM's pavilion, designed by the iconic architect Eero Saarinen, housed an egg-shaped theater where fairgoers could experience a multi-screen film by Charles and Ray Eames, depicting the potential of computers in society. Meanwhile, the Bell System exhibit showcased innovations in communication technology, including a prototype of the picture phone.
The iconic New York State Pavilion, a futuristic trio of towers, not pictured and a large "Tent of Tomorrow," was a major highlight. Today, it's one of the fair's few remaining structures, though it's sadly fallen into disrepair.
Let's not forget the wonders of international exhibits. The Vatican Pavilion hosted Michelangelo's masterpiece, the Pieta. It was the first time the sculpture had traveled outside the Vatican.
![Vatican Pavilion](VaticanPavilion.jpeg)
Art also had its space at the fair. The fairgrounds were adorned with inspiring sculptures, encapsulating the spirit of this colossal event.
As for what's left of the 1965 World's Fair, remnants like the Unisphere and the New York State Pavilion still exist in their original place, while other artifacts, like Walt Disney's "It's a Small World" and "Great Moments with Mr. Lincoln," found a permanent home at Disneyland.
Digging through these photos was like walking down memory lane with my father, experiencing the wonder and excitement of the fair through his eyes. The 1964 World's Fair was more than an event; it was a grand testament to human progress and unity. These photos serve as enduring windows to that moment in time, and I'm thrilled to share them with you.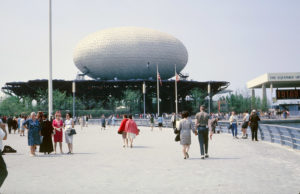 That's it for now, folks! I hope you enjoyed this retrospective as much as I did. Keep an eye out for more gems from John Rodgers' collection in the future.
Until next time, stay curious.